Sole and Spinach Casserole
Derf2440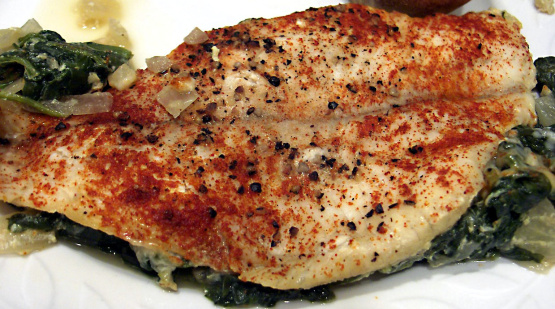 An easy and light recipe from Barbara Gibbons, 'The Slim Gourmet'. Although I haven't tried this, I'm sure it will appeal to calorie counters as well as those on low-carb diets. Let me know what you think!
Cook fresh spinach in a tightly covered saucepan with no liquid added.
(If using frozen spinach, drain thoroughly but do not cook).
Combine spinach with onion and spread in a shallow nonstick baking pan coated with cooking spray.
Add milk, sprinkle with cheese, and arrange fillets over cheese in a single layer.
Sprinkle dish with lemon juice, salt, pepper, and paprika.
Cover pan tightly with foil.
Bake in a preheated 400 degree oven for 20 minutes.