CarolAT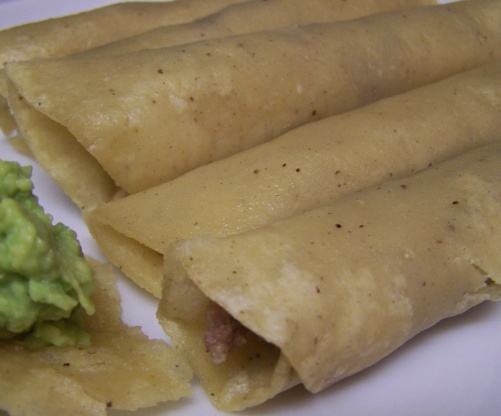 I used instant mash potatoes, but if you have the real thing on hand use that! The mashed potatoes are an interesting twist to the standard taco.

These soft tacos were quite good. However, they could have been a bit more spicy. I served them with spicy salsa, guacomole, and sour cream. When making these again, I don't think I will add the simmered chopped lettuce because I could not taste it, but I will add more green onions and possibly a bit of shredded cheese. Made for My 3 Chefs Fall 2008.
In a skillet, slowly cook ground beef until lightly browned.
Add the minced garlic and salt and pepper to taste.
Drain off excess fat.
Add minced green onions, chopped lettuce and mashed potatoes; simmer slowly for about 7 minutes.
In hot oil, heat tortillas, one at a time just until softened; blot dry with paper towels; stack and keep warm.
Put about 1 tbsp on each tortilla; add your favorite taco sauce.
Roll up.