Soft Sugar Cookie Cutouts
Parsley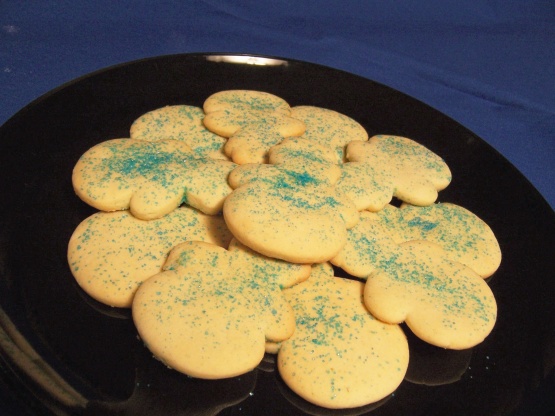 These are my oldest sons favorite cutouts. The sour cream helps them stay soft , moist and get kind of "puffy" when you bake them. Prep time does NOT include chilling time for dough.

We tried this Gluten-Free per my sis. She gave me the substitutions below. 1 cup sugar, 1/4 cup butter, 1/4 cup apple sauce, egg replacer, 1 1/2 tsp xanthan gum. My sis used egg we can't do that... very good... they taste more like animal cookies or like vanilla wafers. (that's because of our flour) Thanks!! I may try more butter or more apple sauce next time
In a large mixing bowl, beat together sugar and butter until creamy. Beat in eggs, vanilla and sour cream until fluffy. Mix in orange peel.
In a seperate bowl, combine flour, baking powder, baking soda, and salt. Gradually add flour mixture into creamed mixture. Beat until well-combined.
Divide dough in half and wrap each half in plastic wrap or wax paper. Chill for about 2 hours.
When dough is chilled, preheat oven to 400.
Roll dough on to lightly floured surface to about 1/8"-1/4" thickness. Cut with cookie cutters and place cookies on ungreased cookie sheets about 2" apart. (If desired, sprinkle with colored sugars). Bake at 400 for 6-9 minutes or until edges slightly golden. Cool about 2 minutes before removing to wire racks to cool.