Soft-Shell Steak Tacos With Creamy Lime Coleslaw
gailanng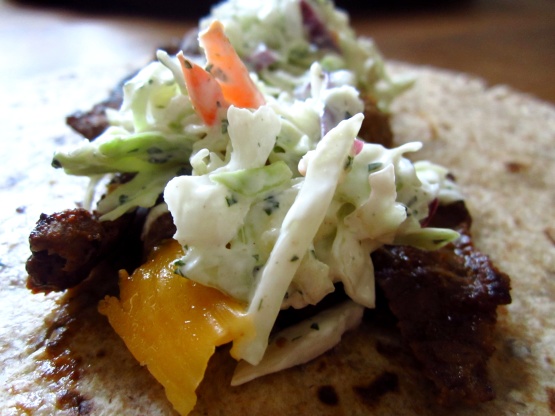 Yum! This was tasty! The meat was perfectly seasoned. These were a nice change from regular tacos and alot healthier than the regular ones that are made with ground beef and the seasoning packet full of salt and chemicals. Thanks, GailAnn!
In a medium bowl, mix together the chili powder, salt, black pepper and oil. Toss with the steak strips.
In another medium bowl, mix together the coleslaw, lime juice, mayonnaise, sour cream, honey, garlic, cumin, jalapeno, cilantro and salt and pepper to taste.
In a skillet over medium-high heat, add the steak and cook to desired doneness.
To assemble, place equal amounts of steak on tortillas, top with coleslaw and cheddar, if using; roll up.