Soft Pretzels (For Bread Machines)
Lydia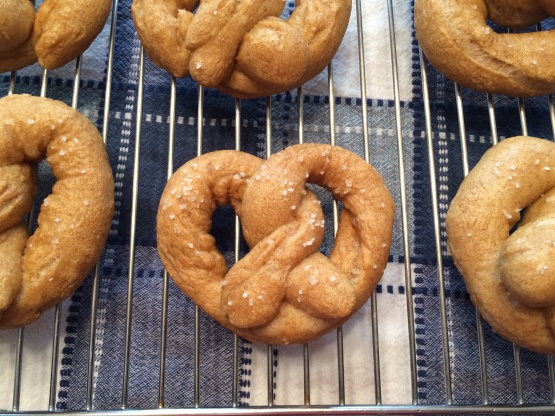 My family just calls them Aunt Kimmie's Pretzels! These are so good--no need to go to the mall just head for the kitchen!

These pretzels are wonderful and fairly easy to make. The hardest part for me was trying to form the pretzel into shape. I absolutely loved them and will be using the recipe frequently.
Place ingredients in bread machine pan in the order suggested by the manufacturer.
Select White Bread setting, Manual and then press Start.
After the machine has completed the second rising cycle, it will beep.
Remove the dough onto a very lightly floured surface.
Divide into 4 parts.
Divide each fourth into 3 pieces.
Roll each piece into an 18 inch rope.
Shape rope into a circle, overlapping about 4 inches; from each end, leaving ends free.
Take one end in each hand and twist at the point where dough overlaps.
Carefully lift ends across to the opposite edge of circle.
Tuck ends under edge to make a pretzel shape; moisten and press ends to seal.
Place on greased cookie sheet.
Let rise, uncovered, until puffy, about 20 minutes.
In a 3-quart saucepan, combine 2 quarts of water and 1/3 cup baking soda; bring to a boil.
Lower 1 or 2 pretzels into the saucepan; simmer for 10 seconds on each side.
Lift from water with a slotted spoon.
Return to greased cookie sheet.
Let dry briefly.
Brush with 1 egg white slightly beaten.
Sprinkle with course salt or sesame seeds or leave plain.
If you leave them plain, after they bake dip into melted butter then in cinnamon and sugar mixture.
Bake at 425°F for 4 minutes; then turn cookie sheet around and bake 4 more minutes.
These are so good.