awalde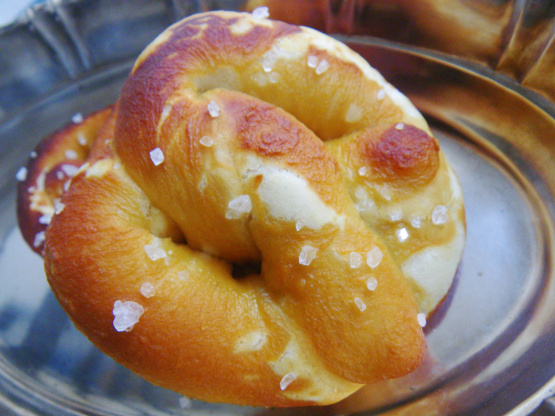 If your current pretzel recipe lacks that true pretzel taste, try this one. I searched for a recipe that really tasted like pretzels, not bread. This is the ticket! The directions look daunting, but they are not. I can get a batch from beginning to end in an hour and a half...and worth it! My kids love them for breakfast. I will skip the salting on some of them and bake them plain. They heat them up, brush with a little melted butter and sprinkle with cinnamon sugar.

Top Review by amcfar
These are amazing!!!!! They taste so much better than the pretzels in the frozen food section at the grocery store. No comparison! The baking soda boil is an extra step, but so worth it. I've been making homemade pretzels since I was a kid and they always turned out bread-like instead pretzel-like. The boiling is definitely the trick. I'll be making these again for sure! Thanks for posting the recipe, MacChef!
Put yeast, sugar and water in bowl and stir. Let sit for 5 minutes and add salt, butter and 1 cup flour. Stir till smooth.
Add rest of flour and stir till mixed well. When mixture is too stiff to stir with a spoon (or you can use an electric mixer with dough hook like I do), begin kneading. Knead dough till smooth and the dough no longer sticks to your hands.
Place dough back in bowl and cover to rise to double it's size.
While dough is rising, grease cookie sheet and preheat oven to 475°F Prepare baking soda boil by combining the 4 cups of water and 5 teaspoons baking soda in a non-aluminum pot and bring to a boil on stove.
When dough has risen, punch down and knead a minute or so. Divide and roll into 6 inch sticks to about 1/2 inch diameter with your hands, or 12 inch long rolls to make into the pretzel shape.
Allow pretzels to sit for 2-3 minutes. Place 1-2 at a time into the boiling baking soda water.
Let pretzels boil for 1 minute and 10 seconds on one side, then flip them over and boil 1 minute and 10 seconds on the other side.
This boiling step is the secret to firm skin and adds that definite pretzel flavor. Not boiling them long enough leaves them too soft and allows them to rise too much. Boiling too long makes them tough. Err on the side of not too long if unsure.
Using a large slotted spoon, lift them out the of water, let them drip off and place on the greased cookie sheet. When all are done, sprinkle with course salt (Parmesan is good too!).
Bake 12-15 minutes until the are a medium to dark golden brown.
Makes 3 dozen 6 inch sticks or 1 dozen pretzels.