Soft No-Yeast Breadsticks
q_tie26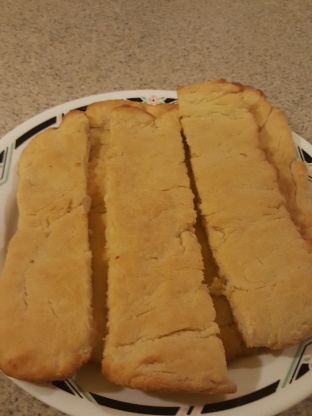 Quick and easy to make bread sticks for those times when you want homemade bread sticks, but do not have the time to wait for them to rise. This recipe was found at www.domesticgoddess.com and modified to our liking.

This is my go to recipe. Quick and easy (also makes a good pizza crust). I always double the recipe for my family of 5. I made the mistake once of adding the butter to the mix, instead of in the baking dish, and cooking them on a cookie sheet, instead of a baking dish. The result was slightly burnt crispy sticks. So I recommend using a glass baking dish and following the recipe. Making them again right now.
Combine dry ingredients and gradually add milk to form a soft dough.
Knead gently 3 or 4 times on a floured surface.
Roll out into a rectangle about 10 x 5 inches and cut into 12 sticks or shape into bread sticks with your hands.
Put the melted butter into a large baking dish (I use a 9 x 13 inch; rectangular glass dish) and turn the breadsticks to coat them with the butter or spray with butter flavored non-stick spray for a healthy alternative to butter. Sprinkle with sesame seeds, Italian seasoning and/or garlic salt, if you like.
Bake at 450°F for 14 to 18 minutes.
Serve warm.