Soft Italian Breadsticks (Abm)
sarahjamil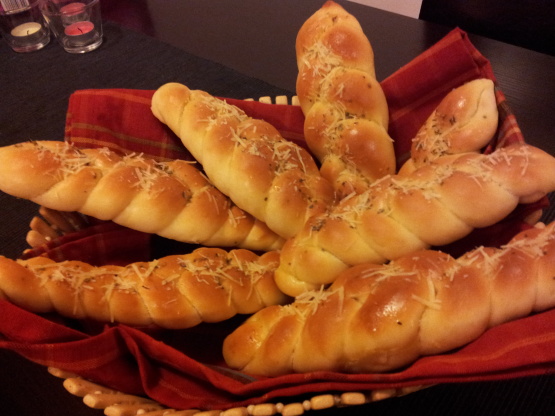 Serve these wonderfully soft breadsticks warm out of the oven, brushed with melted butter and sprinkled with Parmesan cheese. Goes really well served with Italian meals. Recipe from Quick Cooking.

I really enjoyed this recipe, I made a batch of whole wheat and a regular batch. I did not have a bread machine so I just used my mixer and kneaded it for about 15 minutes, then I let it rise for another hour or so then I cut and twisted and let rise for another hour, I followed all the ingredients except I only used 1 tab. of sugar and I used regular flour for the regular one's and whole wheat flour. The wheat seemed dry so I added a couple teaspoons of olive oil and the regular one's where really sticky so I added a little extra flour. I baked for about 10 minutes then brushed with garlic butter and sprinkled with cheese and baked for another 7 minutes. They were really yummy.
Place all dough ingredients in your bread machine pan according to manufacturers direction.
Select dough setting.
When dough cycle is complete, turn out onto floured board and divide dough in half.
Cut each portion into 12 pieces and roll each piece into a 4 to 6" rope.
Place 2" apart onto greased baking sheets.
Cover and let rise in a warm place for about 20 minutes or until doubled.
Bake at 350° for 15 minutes or until golden brown.
Immediately brush with butter and sprinkle with Parmesan cheese.
Note: Be careful not to overbake or they will become tough.