Soft Crust Whole Wheat Bread
Debber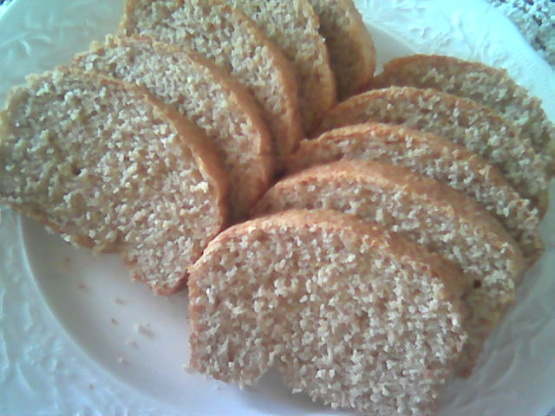 I changed this from a basic whole wheat bread recipe I had. I hate hard crusts and this bread has a soft crust, stays fresh and tastes great. I've blogged about it and a lot of people have raved about it.

I have never ever been able to make good bread. And, I usually spend lots of $$ for bakery bread. While looking for something else, I found your recipe. I followed it just as written. And it turned out wonderful. Crusty on the outside, but soft on the inside. I made my first recipe with my electric mixer and it turned out great. But, after that, I threw the ingredients into my bread maker and set them for the dough setting. The loaves come out smaller, but better tasting, for some reason. I gave the recipe to my daughter in law and now she is making her own bread. Thanks for the great recipe. sue
Measure out the first three ingredients into a bowl, set aside.
Mix in a bowl the water (110-120 degrees), olive oil, honey and yeast.
Slowly mix in the flour (I use my Kitchen Aid mixer). Dough should be not sticking to the sides of the bowl. I usually end up using 3 1/2 cups of flour. I let my mixer knead the dough for 7-8 minutes. If you knead by hand, knead for 10-12 minutes. Wheat bread needs a longer knead time.
Place in oiled bowl in warm place, covered by a towel or plastic wrap,for about an hour or until about double in size.
Punch down, turn out of bowl. I make the dough into a ball and use a serrated knife to cut in half. Shape each half into a rectangular roll and place in loaf pans.
Cover and let rise about 45 minutes. Bake at 375 degrees for 25-30 minutes. Bread is done when it sounds hollow when tapped.