awalde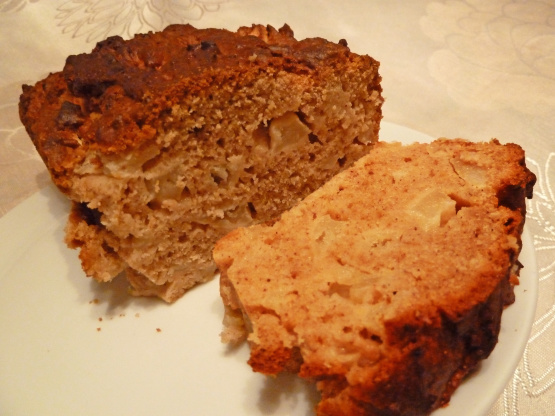 This is a very easy and quick apple cake recipe using ingredients you are most likely to have in your pantry. I came up with it when wanting to make apple cake and didnt have any butter in the house. I hope youll like it as much as we did! :)

Top Review by awalde
This is really wonderful, moist and healthy cake. We loved this caie as this is certainly not too sweet and not to fat.
I coated the cake mold with aluminium foil, but next time I will use some non sticky foil and serve this as an upside down cake.
Thanks a lot for this Speedy Gonzales (superfast) cake!
In a big bowl combine all of the dry ingredients.
In a separate bowl combine milk, oil and egg. Add to the dry ingredients and stir until just combined (do not overmix!).
Place one layer of sliced apples in a bundt-cake pan. Add remaining apple slices to the dough and stir to combine.
Pour into pan.
Bake in the preheated oven at 190°C/375°F for 35-40 minutes or until tester comes out clean. If the cake gets too dark on top, cover with a sheet of baking paper.
Serve warm or cold. I like it plain, but some ice-cream, cream or custard would be lovely, too. :).