Sara 76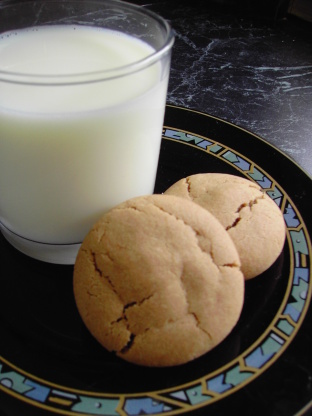 I recently fel in love with cookies as i only have to make them once and they keep up to one or two weeks in your cookie jar. Well, if you let them. That way i do not waste anymore tears of left over cake which i have to trow away. We are only two and sometimes, we just feel for a bite of cake but we can never finisih it all - and we should not even if we could. This is a simple recipe for choclate cookies which are simple and good.

We really enjoyed these cookies! They were soft and cake-ish, but still very much a cookie..if that makes sense. Lol I added 1TB of cocoa instead of the 2 tspn, and cooked them for about 15 minutes. We enjoyed them with our afternoon coffee, thanks for sharing! [Made & reviewed as a thankyou for reviewing one of my recipes :)]
Mix butter and sugar until creamy.
Add flour and cacao.
Roll little balls and press them onto your baking sheet.
Bake at 150°C for 10´.