Jaylee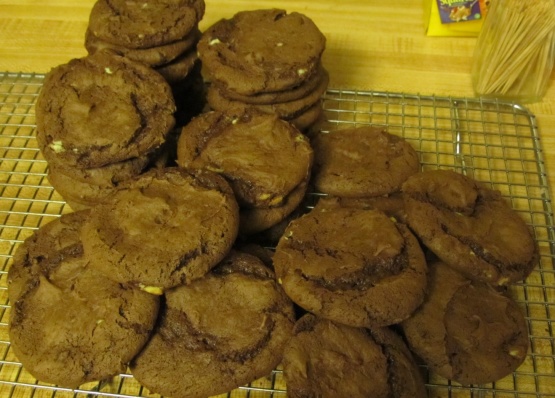 These are the most wonderful "soft" chocolate cookies you will ever taste. They are not for those who are dieting, because you will NOT be able to stop at just one cookie!

Your recipe was a life saver this morning! Our church has an outreach ministry at a local nursing home. In Dec. church members brought tins of cookies to the residents as a special treat. It was at that time I found out there is a gentleman there who is deaf and has no one to communicate with. DDs and I have since taken him under wing and visit him weekly. As we began to leave last week he signed to me "Where's my cookies?" I signed back that I would bring him fresh cookies at our next visit and I received the following response "I love chocolate ones". Our friend is 90 years old, and sharp as a tack, but he isn't able to chew his food very well so I knew I needed to make a cookie that would stay soft. I had an old tried and true recipe all set however; when I went to the kitchen this morning I found that I only had 1 stick of butter in the house! After a bit of searching I came across your recipe and knew that without the nuts it should be perfect. I have never made a cake mix cookie before and was pleasantly surprised by the results. With all of the cake mix flavors out there the cookie combinations are limitless! I'm sure our friend will enjoy these cookies very much. Thanks for posting this very simple yet very tasty recipe.
Preheat oven to 350°.
Grease cookie sheets.
Combine cake mix, water, butter and egg in a large mixing bowl.
Beat with electric mixer on low speed until moistened.
Increase speed to medium; beat for 1 minute (dough will be thick).
Stir in chips and nuts; mix until well blended.
Drop dough by heaping teaspoonfuls 2-inches apart onto greased cookie sheets.
Bake 10-12 minutes or until set.
Let cookies stand on cookie sheets 1 minute.
Remove cookies to wire racks; cool completely.