Soft Chocolate-Almond Oatmeal Cookies
Torrig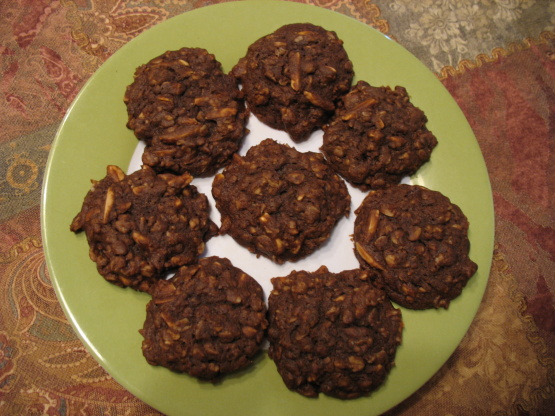 Credit for the recipe goes to The Weekend Baker, by Abigail Johnson Dodge, my currently favorite cookbook. It yields delicious, soft, cakelike cookies, with added crunch from the toasted almonds. If you don't have any toasted almonds on hand, its easy to do before you start, almond slivers just need a stint the same oven temperature as the recipe requires--350 degrees-- for about 8 minutes. Also, I use the spoon-and-sweep method. Dip-and-sweep will result in too much flour.

very good, chewy, strong almond taste.
Preheat oven to 350 degrees, line three cookie sheets with parchment or nonstick baking liners.
In a medium bowl, combine the oats, flour, baking soda, and salt. Whisk until well blended.
In another large bowl combine the brown sugar and butter, beat with an electric mixer on medium speed until well combined. Add the eggs and vanilla and almond extracts and beat until well combined.
Pour in half of the dry ingredients and mix on low speed just until blended. Add the milk and mix until just blended. Pour in the remaining flour mixture and mix until just blended. Add the nuts and mix briefly to combine.
Shape the dough unto 1.5 in balls. Arrange the mounds on the cookie sheets, about 2 inches apart. Lightly dampen your fingertips and slightly flatten each mound, so they're about .5 inches thick.
Bake one sheet at a time on the middle rack until the cookies are puffed and still moist-looking on top, about 11 minutes.