Bobtail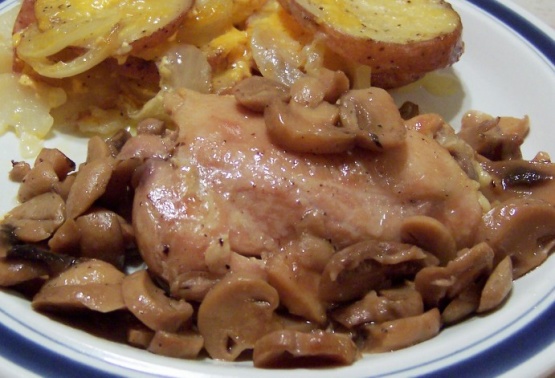 This was one of my recipes from the Recipezaar account Recipe Adoption. I haven't tried it yet!

This was good. I served each breast over a bed of thickly sliced sautéed mushrooms and onions and served with homemade oven wedges. This is a good weeknight meal - easy to prepare and quick to get on the table. Thank you for adopting and editing this recipe KC, it was fun swapping recipes with you. :)
Sauté the garlic, onions and mushrooms with the butter and olive oil in a large skillet.
Once soft, remove the onions and mushrooms with a slotted spoon and set aside; discard.
garlic.
In a separate bowl, mix the flour with the salt, pepper, garlic powder and paprika and then dredge the chicken through the mixture.
Place the breasts in the same skillet to cook in the remaining butter/olive oil/mushroom juices; As these juices began to cook off, add 1/2 cup of chicken broth and cook until chicken juices run clear.
Remove the chicken and set aside;cover with aluminum foil to keep warm. Re-add the mushroom/onion mixture to the pan, along with the remaining 1/2 cup chicken broth and 2/3 cup beer; sauté the mushrooms just long enough for the flavors to blend and mixture to be reheated.
Add the chicken back to the skillet; Serve immediately over rice.