Soft, Chewy Sugar Cookies
Lainey39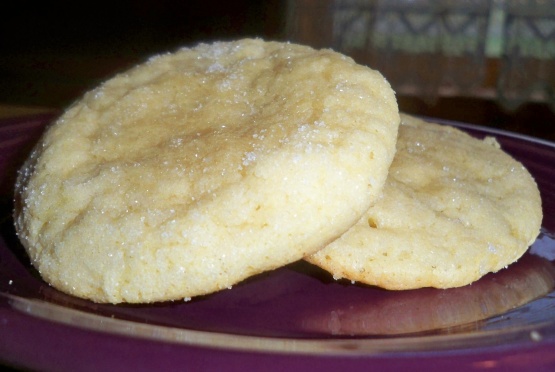 I was never a huge sugar cookie fan until I went to a local bakery and bit into one of their frosted sugar cookies. It had a fudgy texture that complimented the harder frosting and sprinkles on top. So good! I've been on a hunt for such a cookie since. I haven't found the frosting yet, but here's a great cookie that delivers on texture and taste!

I'm not a fan of crisp sugar cookies, I'm not a big fan of sugar cookies period, but I have been using this as my standard Sugar Cookie recipe. I don't recall seeing anyone else having this problem, but even after being refrigerated for a full 24 hours, my dough was very sticky! This was surprising since it has 4 cups of flour, so I assumed there was just too much liquid. I've made a few of my own adjustments and have been pretty happy with my version. I use more butter, less shortening, sugar and brown sugar, just 1 egg and 1 egg yolk, and only 4 T. of sour cream. I also do vanilla and almond extract, but if I have fresh lemons, I will throw in a teaspoon of juice as well. Mine bake up perfectly in about 12 minutes, and I top them with a Fresh Strawberry Glaze.
Cream shortening, butter, sugar; add eggs, lemon, vanilla and sour cream.
Mix till creamy; add sifted dry ingredients: salt, soda, and flour.
Chill for several hours or overnight. Roll into balls and flatten with bottom of sugar coated glass.
Bake at 350°F just until the edges start turning color. Time will vary depending on how large and thick you made your cookies. It is important not to overbake if you want the texture to remain chewy and soft.
Decorate as desired.