Soft and Scrumptious Ginger Cookies
Prep 15 mins
Cook 10 mins

These are the BEST ginger cookies! Big, soft, spicy... and they make your house smell oh so good! These are divine made into cookie sandwiches with a bit of cream cheese frosting between 2... Also great with vanilla ice-cream... Fabulous alone...
Directions
Preheat oven to 350 degrees.
In a large bowl cream the cup of sugar and the butter until soft and fluffy.
Add egg.
Gradually, add water, vanilla and molasses,.
Set aside.
Sift together the flour, soda and spices.
Add drys to wets.
Mix until moist.
Shape dough into 1 to 1 1/2 inch balls.
Place 2 inches apart on an ungreased cookie sheet.
Sprinkle with sugar.
Slightly flatten.
Bake 8-10 minutes (cooking time may vary by oven - so check often).
Allow cookies to cool a bit before removing them from the sheet - 5 minutes usually does it.
Store in an airtight container to keep softness.
Serve and enjoy!
Most Helpful
Great! I only had an 1/8 of a cup of molasses so added pure maple syrup to make up the difference.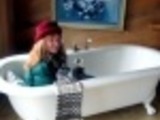 Fantastic!!!! I made these for PAC 2007 and they are great!!! My youngest is going nuts, wanting to eat the whole batch!!! They come out kinda thin, but still soft. They WOULD be perfect as a sandwich cookie...I'm gonna try that next time!!