Soft and Chewy Snickerdoodle Cookies
Lidya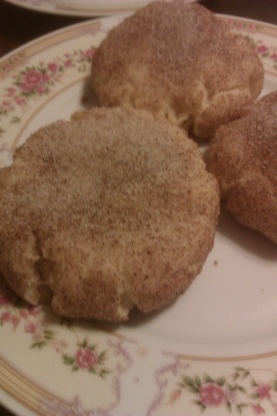 These cookies are too perfect to be true! They are so soft when bitten into and chewy when you are indulging it. Be sure to follow step by step though as one mistake (not chilling dough or too heaping of a measurement) could ruin the cookie. Hope you enjoy just as our family does!

This are the worse cookies ever, who ever put this recipe on the site left out an ingredient, which is sugar, my mistake was not to read the reviews before I made them. I believe the site should remove the recipe.
Beat butter and shortening in a large bowl until creamy and smooth.
Add in eggs one at a time beating after each addition.
In a separate medium sized bowl combine the flour, cream of tartar, baking soda, sugar and salt.
Beat 1/2 of the dry mixture into the wet mixture.
Beat the remaining 1/2 of the dry mixture into the wet mixture. Dough should be workable and not too soft.
Refrigerate dough uncovered for 30 minutes.
Preheat oven to 375*.
Combine sugar and cinnamon in a small bowl.
Roll 1 inch balls of dough into the cinnamon mixture and place 2 inches apart on an ungreased cookie sheet.
Bake for 10 minutes.
Remove immediately from the cookie sheet onto a wire rack and let cool for 10 minutes before transporting them.