Soft and Chewy Chocolate Bites
Pamela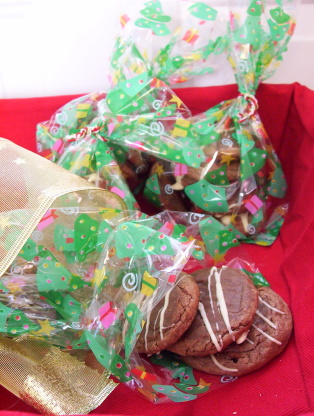 I got this recipe from my annual Christmas Bake Exchange.

I was SO skeptical throughout the entire baking process... Not enough chocolate, I thought, wrong dough consistancy, I thought, wrong size balls, I thought... Boy did I think WRONG! The dough didn't firm up like I expected, even after some time in the freezer so I just used a cookie scoop and made bigger cookies so I didn't have to get my hands all sticky. Even after pulling them out of the oven I still wasn't sure about them, but after that all imortant one minute rest time on the cookie sheet (some needed two or three since I made them bigger) I took one bite and was in love! My husband who is a major chocolate chip cookie guy really liked them too! I just added the white chocolate on top and put sprinkles on some and they are beautiful! They really are super soft and chewy!!! I added a touch of peppermint extract to the batter to make them more "Christmasy" and out of all the Christmas goodies I made this year, these are my favorite!! Thank you SO much for posting this quick, easy, chewy and delightful recipe!!
Preheat oven to 350 degrees.
Microwave the chocolate and butter for 2 minutes or until butter is melted. Stir until chocolate is completely melted.
Stir in sugar. Blaend in eggs and vanilla.
Add flour and mix well.
Chill for 15 minutes or until dough is easy to handle. Shape dough into 1 inch balls and place 2 inches apart on greased abking sheets.
Bake for 8 minutes or until just set(Do not overbake!). Laet stand on baking sheet for 1 minute abd then transfer to wire racks to cool completely.
Drizzle with white chocolate if desired.