Katzen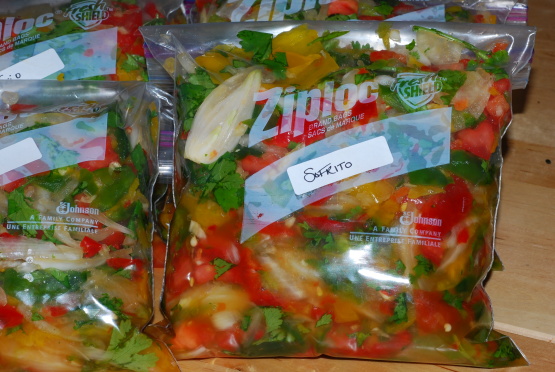 "This is the one indispensable, universal, un-live-withoutable recipe. Having said that, it is incredibly easy to make with ingredients you can find at the supermarket. And if you can't find all the ingredients I list below see the note that follows for a very simple fix. What sofrito does is add freshness, herbal notes and zing to dishes—you can do that with the onion, garlic, bell pepper, cilantro and tomato alone. In my house, sofrito makes its way into everything from yellow rice, black bean soup, sauce for spaghetti and meatballs to braised chicken and sautéed shrimp. Not only that, it freezes beautifully, so in about In 10 minutes you can make enough sofrito to flavor a dozen dishes. I'm telling you, this stuff does everything but make the beds. You will change the way you cook. I guarantee it." ----Daisy Martinez

I made this recipe this summer and froze it in ice cube trays. Just made Crock Pot Taco Soup by Lubie (#40022) using 10 of the cubes. The flavor went from wonderful to awesome by using the sofrito. Next year this will be one of my big garden recipes. Thanks so much for this great recipe!!
Chop the onion and cubanelle or Italian peppers in the work bowl of a food processor until coarsely chopped.
With the motor running, add the remaining ingredients one at a time and process until smooth.
The sofrito will keep in the refrigerator for up to 3 days. It also freezes beautifully.
*If you can't find ajices dulces or culantro, don't sweat. Up the amount of cilantro to 1 ½ bunches.