Annacia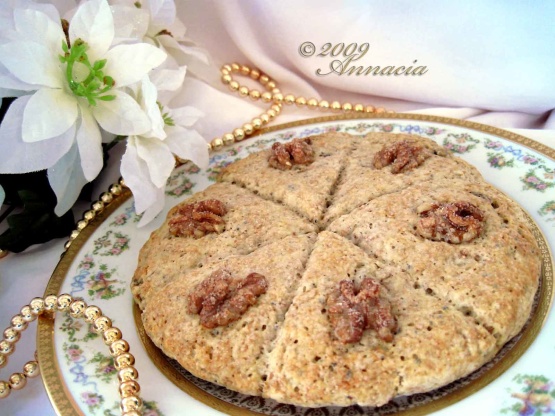 This recipe comes from a cookbook of Cynthia Barcomi and believe it or not the scones truly taste like miniature soda breads. A very yummy and special breakfast treat.

Mmmm, lovely taste that isn't sweet like cake. I used a small portion of both the raisins and nuts. My flour mix was unbleached white and whole wheat and as I didn't have any caraway seed I put in 3/4 tsp of poppy seed ( I made a half recipe). Be sure to make some before the group arrives for coffee/tea!
Preheat the oven to 190°C/375°F.
In a big bowl combine all dry ingredients except for raisins and oats/nuts.
Add butter and work into a crumbly dough.
Whisk together egg and milk and add to dry ingredients. Stir in only until just combined.
Fold in raisins and oats/nuts and roll out on a lightly floured surface.
Using a glass or cookie cutter cut out scones of desired size (I use a 7.5 cm glass).
Bake for 20 minutes until golden brown.