Soba Soup With Spinach and Tofu
tamalita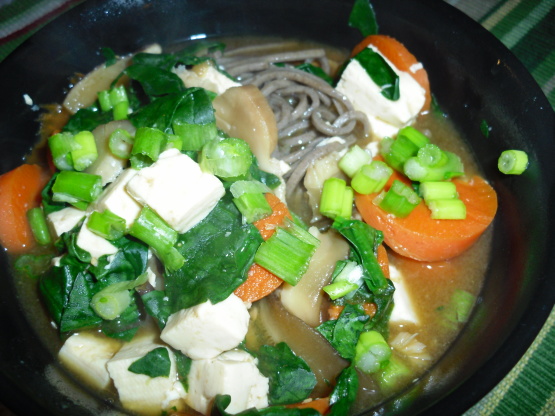 MMMMMmmmmmm, this soup is so good! From Sara's Secrets TV show. Soba is buckwheat noodles. This is comfort food!

I am nott leaving a star rating on this because it isn't a poor rating due to the recipe. This is more of just a friendly warning or suggestion to other cooks wanting to make this even though they can't find all the ingredients. We couldn't find Dashi so after reading other reviews I decided to make it using stock. I went with low sodium chicken because of the sodium content in the soy sauce. To anyone else out there considering doing this, DON"T I wasn't happy with the flavor of this at all, nor was anyone else in the family. Just one of those things, sometimes you can make substitutions with great success and other times.......well not so much. Next time we go somewhere near an Asian Market, I will be sure to pick up some dashi. I can't wait to try this as written. It sounds so good.
For the broth

7

cups water

1

tablespoon instant dashi stock
1⁄2 cup soy sauce

1

tablespoon sugar
1⁄2 lb dried soba noodles (buckwheat noodles)

2

carrots, sliced thin
1⁄2 lb spinach, coarse stems discarded and the leaves washed well, dryed, and cut crosswise into 1 1/2 inch-wide str

8 -10

ounces firm tofu, cut into 1/2 inch cubes (preferably silken)

3 -4

tablespoons miso, to taste (fermented bean paste)

2

scallions, minced
Make the broth: In a saucepan bring the water to a boil.
Stir in the dashi and simmer the mixture, stirring occasionally, for 3 minutes.
Stir in the soy sauce and the sugar and simmer the broth for 5 minutes.
Strain the broth through a fine sieve into a heatproof bowl and pour it back into the pan.
In a kettle of salted boiling water cook the noodles for 3 to 5 minutes, or until they are al dente, being careful not to overcook them, drain them in a colander, and rinse them under cold water.
Add the carrots to the broth and simmer them, covered, for 5 minutes.
Stir in the spinach and the tofu and simmer the soup for 1 minute.
In a small bowl stir together well 1/2 cup of the soup broth and the miso and pour the mixture back into the pan.
Divide the noodles among 6 large bowls, ladle the soup over them, and sprinkle each serving with some of the scallions.
I sometimes sprinkle toasted nori over the soup.
Enjoy!