chia2160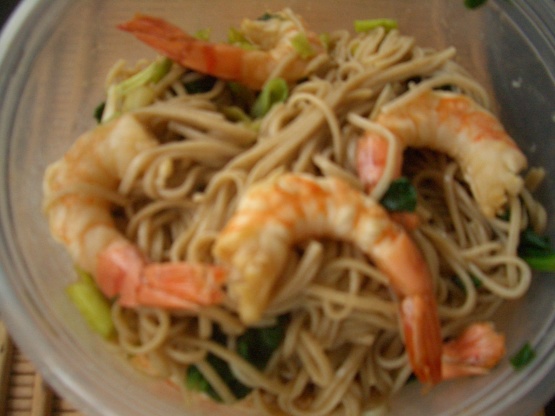 This is an interesting salad that is a bit different than the usual shrimp and pasta salad. Recipe source: Sunset Magazine

dh and i loved this salad. simple to make, good for a hot summer weeknight meal. i used green tea soba noodles, which are a bit lighter than regular soba. also subbed some napa cabbage for the spinach, cause that's what i had on hand. will definitely make again!
Boil soba in boiling water for 5-8 minutes; drain and rinse with cold water and then drain again.
While noodles are cooking, mix together wasabi and 1 tablespoon cold water in a small bowl or cup.
Let stand 5 minutes and then add the soy sauce and lemon juice and set aside.
In a large salad bowl toss together the spinach, noodles, green onions, shrimp, ginger and dressing.