Soaked Multigrain Sourdough Bread
Katzen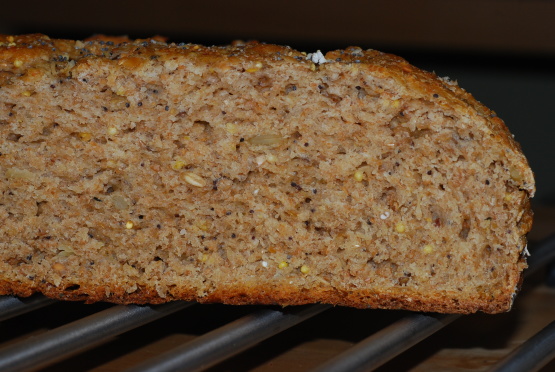 Yet another different multigrain sourdough recipe that I've come up with! In this recipe, you soak the grains and seeds overnight in the proofed starter, then retard the dough for 8 hours to improve the sourdough flavour. It is dense, grainy, and delicious! Harvest Grain Blend for Bread is a mixture that is my mock up of the product by the same name on King Arthur's website. If you don't want to make the entire recipe, you may add 2 tbsp each of rye flakes, wheat flakes, whole oat groats, millet, seven-grain cereal, flax seeds, and sunflower seeds, plus 1 tbsp each of poppy and sesame seeds.

A very nice, even-textured bread, excellent for sandwiches. I have soaked grains before but never in the starter - boy, did it ever take off. I used a 7 or 9-grain cereal mix I had, plus some pumpkin seeds, sesame seeds and flax meal. I cannot get multigrain flour, so used a combination of whole wheat, rye and bread flour. My dough was a bit sticky, but after an hour, the whole grains had fully hydrated. Plus, rye is always sticky, so you have to resist the temptation to add more flour. I did not have time to retard overnight, and my loaf was fully risen in two hours. I have a lovely round loaf. It will make excellent sandwiches for my lunch this week.
2

cups proofed sourdough starter
3⁄4 cup harvest grain blend for bread (see above)
1⁄2 cup milk

1

teaspoon salt
1⁄4 cup honey

2

cups multi-grain flour

1

cup whole wheat flour
1⁄2-1 cup all-purpose flour (as needed)
harvest grain blend for bread, for sprinkling on top of loaf, if desired
Mix proofed sourdough starter and Harvest Grain Blend, cover, and let soak 2-8 hours.
Combine all ingredients, adding additional flour if necessary. (This can be done in a breadmaker, set to the dough setting.).
Allow dough to rest 30 mintues. Fold, like a letter, making three folds, turning the dough 90 degrees in between turns.
Place dough in a lightly oiled bowl, turning to coat; cover and place in fridge for 6-8 hours. **You may omit this step if time does not permit it.**.
Shape dough into a loaf, and place in greased (PAM'd) loaf pan, or on a cookie sheet sprinkled with cornmeal.
Allow to rise until doubled in bulk, approximately 3 hours. If using more of the grain blend for topping, spray loaf with water, and sprinkle topping on, adding a even but light layer. Slash 2-3 1/2" deep slashes on top of loaf.
Bake at 375 degrees F for 40 to 50 minutes. Remove from pan and cool on wire rack. The top can be brushed with butter for a soft crust, if desired.
NOTE: To proof your starter, feed it with equal parts of flour and lukewarm water, then let it sit overnight or up to 12 hours, covered. This is what develops the characteristic sour flavor and the longer the proof, the sourer it will be. If you start with 1 cup of starter and feed it 1 cup each of water and flour, you should have enough to make your bread and save the rest to start your next batch.