Rita1652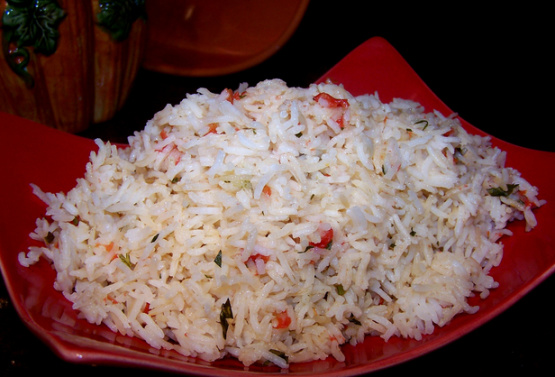 I love the fluffy, lightly seasoned rice I get as a side dish at my favorite Mexican cantina... This rice does not have any chunks of vegetables in it and has a very light tomato flavor. It is a very "dry" rice, unlike some that you may have tried that are very wet or gummy. I have tried to duplicate it and this is my best effort so far. This simple rice goes well with spicy Mexican main dishes since it does not compete with those bright bold flavors.
14.79

ml butter

14.79

ml vegetable oil

14.79

ml tomato bouillon

236.59

ml rice (long grain)

473.18

ml water

14.79

ml chopped parsley (optional)
Heat the oil and butter in a pan on medium heat.
Add the rice and stir until all the grains are coated with the oil/butter mixture and lightly toasted.
Add water and tomato bouillon.
Stir to combine throughly.
Allow to come to a boil.
Reduce heat to low and cover. NO PEEKING!
Simmer for 15-20 minutes or until all water is absorbed.
Allow rice to rest for 5 minutes after cooking.
Fluff with a fork and serve!
Garnish with parsley if desired.