So Simple I Can Make It -- Vegetable Soup
ATM 67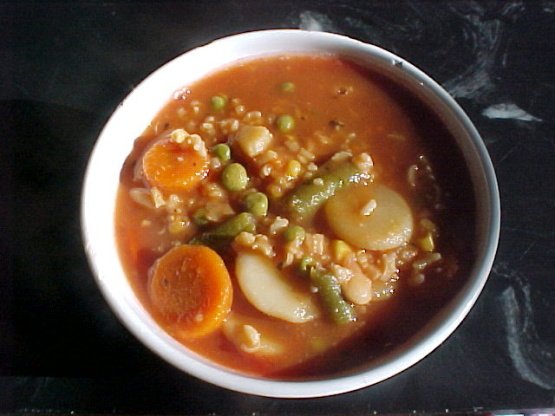 I remember going over to my grandparents' house as a child, and quite often, they would be making vegetable soup. They grew up in the country, outside of towns with populations under 200. They both were in their teens when the stock market crashed and The Great Depression started (Oct29, 1929). Anyway, what started as foods of necessity for them became dishes they loved. They always kept plenty of fresh veggies on hand (quite often they came for their garden), and it was not uncommon for those veggies to make their way into a homemade soup. I come from a different age, and one day when I was feeling a bit nostalgic for my grandparent's soup, I went to my cupboard and grabbed my cans of veggies. This is my version of their soup. All of the cans I use in this recipe, except for the tomato paste & optional tomato sauce are #303 cans, the ones that usually contain between 14 & 18 ounces of stuff in them, depending on what's in them.

Awesome soup recipe! We loved it. I doubled the recipe but only made a few changes. I used ground beef (browned with onion) and all the optional ingredients. The only thing I omitted was the lima beans instead I added canned carrots. Will definitely make this again!!!
Open all of the cans and do NOT drain off juices. This is the most time consuming step of this dish. I find that it is easier to cut off both ends of the tomato paste and use one end of the can to push the paste through the can and into the pot.
In a 4 quart (or larger) pot combine everything.
Bring to a boil.
Reduce heat and cover. Stir occasionally and let simmer for at least two hours (the longer the better).
**If you want to add meat, cook the meat in the pot before combining the rest of the ingredients.
**If you want a thicker soup/stew, add the uncooked rice, tomato sauce and water.
In a larger pot, I have been known to add any or all of the following to the soup -- garbanzo beans, butter beans, red beans, black beans, northern beans, wax beans & black-eyed peas.
This recipe easily doubles, triples, etc -- as long as your pot is big enough ;-).
Serve with fresh cornbread, hot and buttered, of course.
This dish can be prepared in a crockpot very easily.
Omit the chicken and beef for Vegetarian. Also if serving omit the butter on the cornbread for Vegan.