So Simple Butter Baked Chicken
Bobtail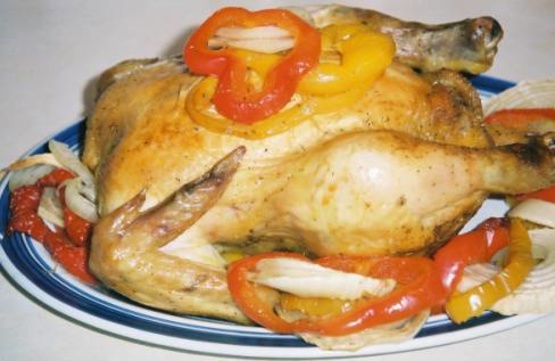 This is a very simple recipe and it tastes great. The chicken will be so tender and tasty, just one touch it will fall apart. Enjoy! **I am one of those cooks that cooks by feel so please make any adjustments that you need to.

I decided to cook a large chicken today since we did not have any leftover turkey from Thanksgiving. I prepared the chicken as specified in the recipe, using red pepper instead of green pepper. I like the sweetness of a red pepper. I used Paula Deen's House Recipe, which is a mixture of salt, pepper and garlic and added a tiny sprinkle of rosemary. I thickly sliced the onion and red pepper. However, I used the "flipping" method in recipe #98395 when cooking. I laid the slices of onion and pepper on my roasting rack and placed the chicken, breast side down on the onions and peppers. I cooked the chicken, breast side for about 45 minutes at 400 degrees. I then flipped the chicken over, covered it with foil and continued baking it at 350 degrees for 3 hours. I removed the foil and let it bake for 20-30 minutes longer to crisp the skin a little. The only thing I may do different next time is cook the chicken longer breast side down and longer in general, so it will be falling apart tender. This is a very good and easy recipe for baked chicken. I do believe the "flipping" method did keep it moist. Thanks Mamacita Memea!
Rinse Chicken and put into a pan.
Rub season salt,pepper and garlic salt on chicken (chicken should be well seasoned).
Melt 1/2 stick of butter and pour all over chicken (make sure it is all over the chicken).
Sprinkle Flour over chicken (just a little not a lot).
Cut onions into onion ring circles and place on top and sides of chicken.
Cut green pepper and place on top and around chicken Cover with Aluminum Foil (tightly).
Put it into oven and bake at 325 degrees for 4 to 5 hours (depending on your oven.).