So Much More Than Fried Rice
Rita1652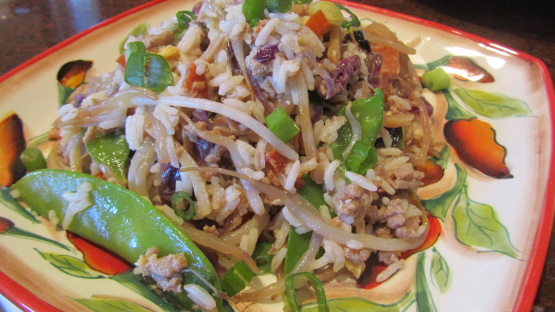 This is so much more than the fried rice you get from a take out joint. I took my mom's worn-out and yellowed Fried Rice recipe and updated it. You're going to love this one dish meal, and as kids, we cleaned our plates! When I know I'm making Fried Rice for dinner, I cook a couple of extra eggs and a few strips of extra bacon in the morning and chop them up and save them for the recipe for later in the day.

This was tasty but did not have the crisp veggies which we enjoy. The carrots and pea pods should be julienned for even cook time. My bamboo shouts were stripped, had to up the soy sauce to 2 tablespoons. And used 1 teaspoon pepper flakes one tablespoon would have been way to much. Made for RSC #18. Thanks for the good eats.
Cook rice according to package directions. Meanwhile if using uncooked bacon, fry and drain, chop up or use pre-cooked bacon, chop up. Fry 2 eggs over hard. Drain and chop up. Cook ground beef; drain.
Place all ingredients in electric skillet or large cast iron pan. Cook over medium low heat about 20 minutes until carrots are crisp tender and snow peas are cooked through.
Garnish with chopped green onions.