So It's Bekah's Pulled Pork Now
Ashley Cuoco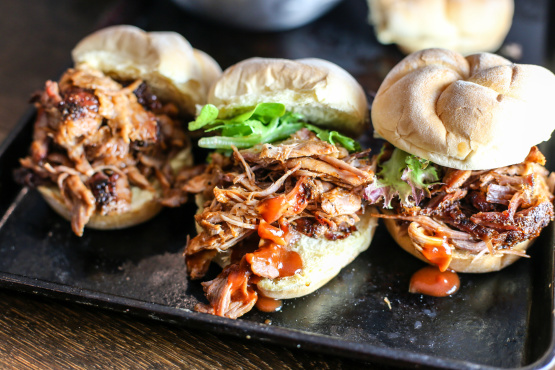 I have adopted this recipe from Mean Chef. This is one of my favorite recipes. The pork is sweet, succulent and falling apart tender. Fabulous served alone, on rolls, in tortillas.

This is fabulous (but you already knew that). Before I was hospitalized a year ago, one of my favourite restaurants was Hogs on The Hill near the University of Maryland campus. And one of their locally famous specialties was pulled pork – I could not get enough of the stuff, and often ordered extra to bring home and freeze. Of course, my low-salt diet put the brakes on my visiting that fine establishment. I had my local butcher call me when he got a fresh pig, and he cut me a huge pork butt from it. As soon as I got it home, I thought I heard it still oinking, so I took my wee butcher knife and stabbed it all over, just to make sure that it was dead. As I was rubbing it with your spice mixture (duplicated faithfully except for salt substitution) I poked some of the mix deep into the wounds that I had inflicted. Then, after overnight resting and subsequent re-rubbing, I slow-roasted it at 250°F for close to 9 hours. The beast was so tender that it almost "pulled" itself and fell into chunks as I was trying to lift it out of the roasting pan. The outside was almost charred, and yet it was glistening moist and had me nibbling on the burned bits as I was completing the "pulling" process. Your sauce was amazing. Because I had a large cut of meat to begin with, I had to make a second batch of sauce in order to have enough to be able to serve additional sauce. Even prior to making your sauce recipe, I have found myself using dates more and more in other savoury sauces – they really add oomph to it. My wife, who previously disliked most pork dishes, wanted me to make a point of awarding your recipe a whole bunch of frequent flier miles. She took pulled pork sandwiches to work for lunch 3 days in a row.
For rub: mix all ingredients in a bowl.
For sauce: Combine in nonreactive saucepan, bring to boil and simmer until it reduces to 1 1/2 cups.
For pork: Rub pork with rub.
Place in Plastic bag and refrigerate overnight.
Take out pork and re-rub.
Let sit at room temperature for 2 hours.
Roast on rack uncovered in oven at 250-275 degrees until falling apart tender.
It will take 7-8 hours, the internal temperature of the pork when done should be between 195 and 200 degrees.
Pull pork into pieces, toss with sauce.
Serve with extra sauce (If you prefer, the pork can be served with Pig Pickin Sauce (#31020)).