So Easy Ricotta and Fettuccine With Tomatoes
Redsie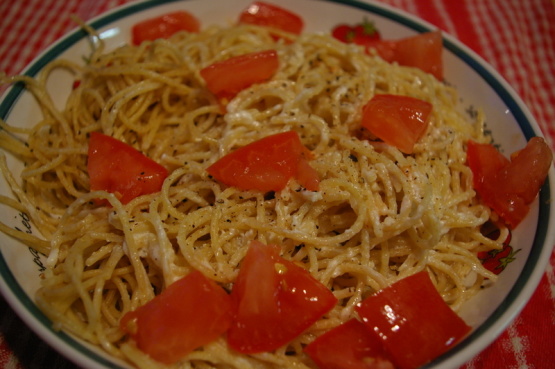 This recipe is ridiculously easy, it takes only minutes to make especially if you are using fresh packaged fettuccine from the grocery store, or boil some dryed pasta for this, you can double this recipe if desired! You will love the simplicity and taste of this pasta dish, serve this with a side salad and crusty buns for an easy weeknight (or anytime) meal!

Top Review by Redsie
Can't get any easier than this!! Had some leftover pasta that I reheated in the microwave, then added half the mix (as I made half the recipe!). This turned out great - note to self: use less garlic powder next time (think I dropped a bit too much ;) - thanks Kit! :)
Cook the pasta to el dente (do not overcook the pasta, fresh pasta will take less time then dryed, so cook the fresh pasta according to package directions) drain and polace in a large bowl.
In a bowl mix together the ricotta with melted butter pinch garlic powder (if using) and 1/3 cup grated Parmesan cheese; mix to combine; add to the cooked pasta and toss.
Season with black pepper to taste.
Divide into bowls then top with chopped tomatoes.
Sprinkle with more Parmesan cheese.
Delicious!