So Easy It's Shameful Crock Pot Onion Chops
Bec6206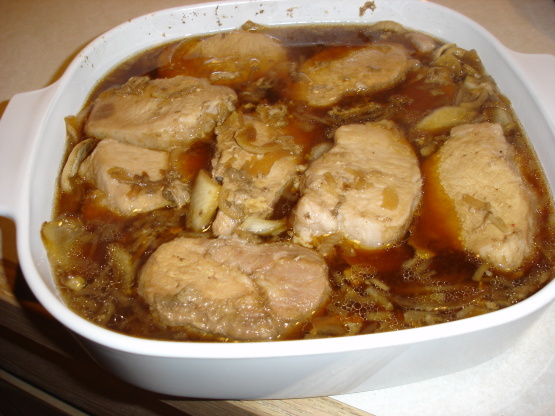 When a coworker told me about these pork chops, I knew I had to try them. I mean it just doesn't get any easier and for someone like me, with a full-time career AND a full-time job as Mommy, I rely on easy recipes to make sure the family gets fed! The recipe just called for the chops and the soup mix but I added the onions for extra flavor. They caramelize so nicely and really complement the flavor of the soup. These pork chops are so tasty and tender you only need a fork. Enjoy!

Top Review by DeeDee
I made this and everyone, including 4 picky eaters, (3 kids and 1 husband) loved it. When I read this recipe at 9:00 a.m., I ran to my freezer, defrosted 5 boneless pork loin chops, and threw everything together as the recipe states in less than 15 minutes. I would cut the cooking time down 1-2 hours because my chops were small and boneless. I also strained the juices and made an excellent tasting gravy. Served with rice, broccoli and asparagus, dinner was a hit. The chops really were fork tender and I will definitely make this again!
Place pork chops in crock pot.
Mix together onion soup mix and water; pour over chops.
Place onion slices on top.
Cook on LOW for approximately 8 hours.