Snowy Java Jet Cappuccino
diner524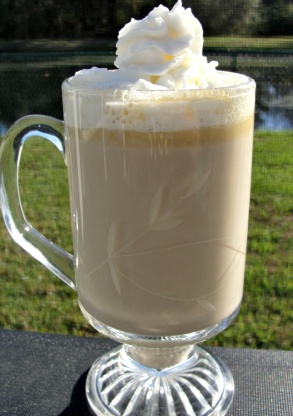 Perfect for those cold winter nights. You can easily make this into two smaller 4 oz servings if you wish. An espresso and white chocolate delight thats made with real ingredients too, no powered mixes here :D.
So so yummy and couldn't taste the alcohol at all!!! I made this with a couple of changes, used strong coffee, Godiva coffee liqueur and no chocolate covered coffee bean for garnish. I was worried that the 1 oz chocolate would be too sweet for me but it was just perfect and melted very quickly in the heated cream. Thanks for sharing the recipe. Made for the Rookie Tag Game.
Heat cream until almost boiling.
Remove from heat and add chocolate.
Whisk until melted and smooth.
Stir in liqueurs and vanilla.
Return to low heat and whisk until foamy.
Pour espresso into a large mug, then spoon chocolate mixture over the espresso. Top with whipped cream and the chocolate covered coffee bean.