lazyme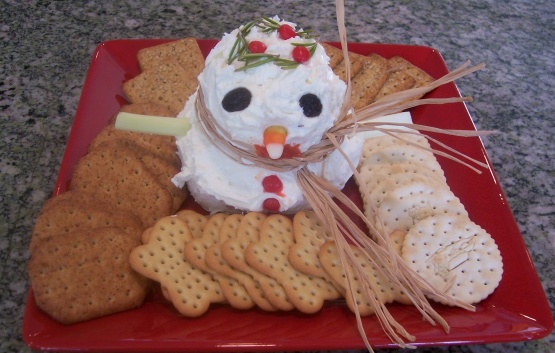 Cute make-ahead cheese ball for the holidays from Betty Crocker Holidays.

I made up 1/2 this recipe and we loved it (none of us can ever get enough smoked salmon). The horseradish is something I don't usually add, but I liked it - it wasn't overpowering but it was definitely there. I didn't do the snowman thing (it's summertime), so I didn't 'frost' with the whipped cream cheese (which we can't get in Greece, anyway). That probably saved us a goodly amount of calories! Served with crudites before dinner.
Mix 8-ounce and 3-ounce packages cream cheese, the salmon, onions, lemon juice, mustard and horseradish. Cover and refrigerate at least 2 hours but no longer than 3 days.
Shape two-thirds of the salmon mixture into a ball; place on serving plate. Shape remaining salmon mixture into a ball; place on top of larger ball. Cover loosely and refrigerate about 1 hour or until firm.
Frost snowman with whipped cream cheese before serving. Garnish as desired with decorations. Serve with crackers, bagels or vegetables.
About 3 cups spread.
Decorate with fresh rosemary, dried cranberries (crown); chopped olive pieces or raisins (eyes and buttons); carrot (nose); pimento or red bell pepper (mouth); radicchio or carrot ribbon (scarf); asparagus or celery (arms).