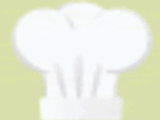 A snowball cookie wrapped around a Hershey's Kiss. For variety, use regular, almond or mint Hershey's Kisses.
Directions
Cream the butter and sugar until fluffy.
Add the vanilla and mix well.
Add flour, combine well, and wrap in plastic wrap and refrigerate for half an hour.
Preheat oven to 350°F
Take dough out of refrigerator and break into balls large enough to cover a Hershey's Kiss.
Insert the Kiss and wrap dough around it, making sure it is completely covered.
Bake on ungreased cookie sheet until cooked through, about 10 to 12 minutes. Remove cookies from baking sheet to wire rack.
While still warm, sift powdered sugar on top. Cool completely.