Snickerdoodles (The Best)
Erin R.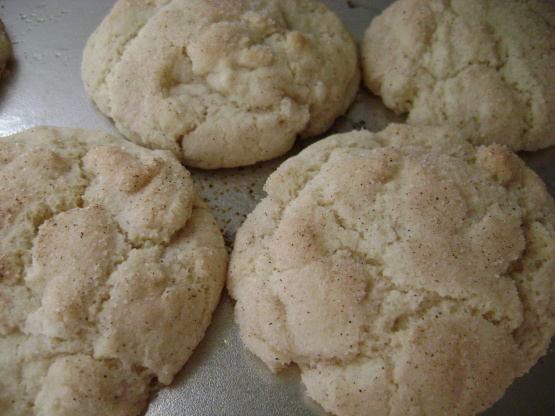 Everyone I know loves these cookies. I took a batch to a party once and disappeared within 30 min. with people asking for more. I especially like the cinnamon and sugar. I must admit, it is not my creation; I got it from the Pillsbury Complete Book of Baking.

I wanted to make some Snickerdoodles, and first used another recipe (not from 'Zaar!)--they were awful & I ended up throwing them out. Then I found this recipe--they were exactly what I was looking for - a little crispy on the outside, but soft & cakey on the inside. Because we like a lot of cinnamon flavor, I added about 1/2 tsp of cinnamon to the dough. If you're looking for the perfect snickerdoodles, look no further...these are indeed the BEST! Thanks for posting, Jo! -M :-)
Heat the oven to 400°F.
Next, in a large bowl, beat 1 1/2 cups sugar and margarine until light and fluffy.
Add vanilla and eggs and blend well.
Add flour, cream of tartar, baking soda, and salt, and mix well.
Mix 2 Tbsp sugar and 2 tsp cinnamon in small bowl.
Shape the dough into balls (approx 1-inch or whatever your preference) and roll in the cinnamon-sugar mixture.
Place 2 inches apart on ungreased cookie sheet.
Bake at 400°F for 7 to 9 minutes or until set.
Immediately remove from cookie sheets and cool completely.