didyb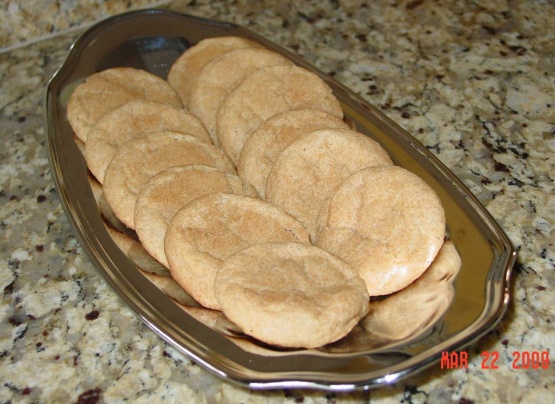 I saw that there are tons of snickerdoodle recipes on zaar, but I didn't see this one!! I found the recipe in cooking light and besides being simple to make they taste amazing!!

Top Review by didyb
Reviewed as part of PAC 09 Spring. A very good cookie. The outside had a nice, delicate crisp while still having a chewy inside. It is very cinnamony- but that's what a snickerdoodle is all about. I baked on a plain cookie sheet and a non-stick cookie sheet. The plain cookie sheet took 8 minutes and the non-stick took 10 minutes. 11 yr old DD took the picture.
Preheat oven to 400 degrees.
Combine 3/4 cup granulated sugar, brown sugar, and butter in a medium bowl; beat at medium speed until light and fluffy.
Beat in vanilla and egg.
In separate bowl, combine flour, baking powder, 1/2 teaspoon cinnamon, and salt; stirring well with a whisk.
Add flour mixture to butter mixture; beat just until combined.
In a small shallow dish combine 1/3 cup sugar and 1 1/2 teaspoons cinnamon.
Shape dough into walnut sized balls and roll in sugar mixture.
Place 2 inches apart on baking sheets coated with cooking spray.
Bake at 400 degrees for 8 minutes or until tops crack.