Pam-I-Am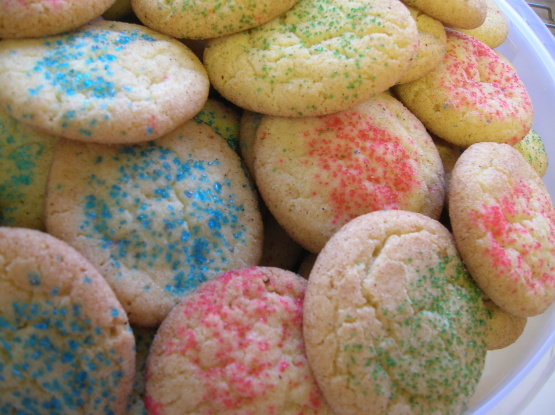 Got this from my mothers 1940's recipe collection. She used to make these and they are very, very good.

These cookies were good, but they did not turn out as I had hoped. Mine did not puff up nicely, (as shown in the photos)and the cookies cracked quite a bit in the middle, plus the cookie itself was a bit on the dry side. By the way, I did add a teaspoon of vanilla extract, to add more flavor. Also, I found the 1 cup of sugar mixed with the cinnamon, (to roll the cookies in) was a lot more than needed for the recipe, and I had plenty of it leftover. Before baking them in the oven, I had rolled the cookie dough/balls in colored sugar, as Pam-I-Am did, but not much of it stuck to the dough; especially after rolling them in the sugar/cinnamon mixture first. Next time I will roll the dough balls in the colored sugars, then lightly sprinkle the balls with a bit of the cinnamon/sugar mixture, just before baking them in the oven. I may also take Daniel'sWife suggestion, and add cinnamon to the batter itself.
Cream first 3 ingredients together.
Sift together dry ingredients and add to creamed mixture.
Roll into balls and press into sugar.
Place on lightly greased cookie pan sugar/cinnamon side up.
Bake 350 degrees for 8-10 minutes.