HisPixie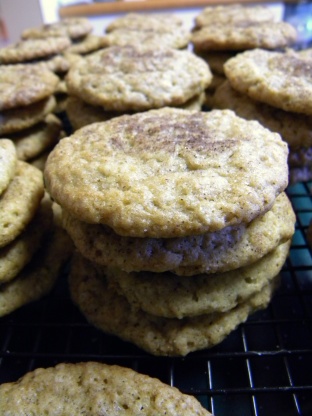 Loved them! So easy! My daughter wanted homemade cookies today and I didn't have a lot of time so I whipped these up. Wonderful and easy to munch one after another. They have told me they prefer this recipe to my standard snickerdoodle recipe (which they've always loved).
Heat oven to 375ºF. In large bowl, beat margarine, brown sugar and 3/4 cup granulated sugar until creamy. Add eggs; beat well. Add combined flour, oats, 1 teaspoon cinnamon, baking soda and salt; mix well.
Drop dough by rounded teaspoonfuls onto ungreased cookie sheets. Sprinkle each cookie lightly with combined remaining 1 tablespoon granulated sugar and remaining 1 teaspoon cinnamon.
Bake 8 to 10 minutes. Cool 1 minute on cookie sheets; remove to wire rack. Cool completely. Store tightly covered.