iamafoodblog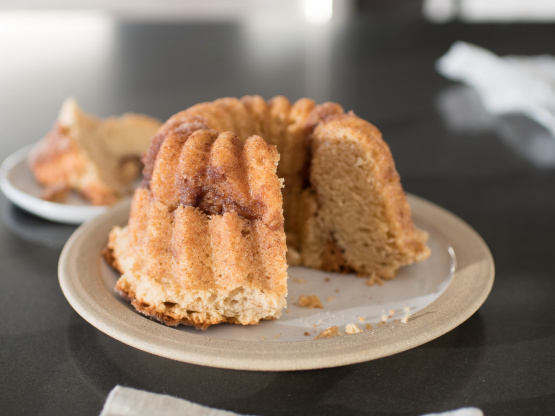 I love coffee cakes and this recipe is my beloved family favorite. Some people tell me it tastes like a snickerdoodle, others say it's the best coffee cake they ever tasted. This cake needs no frosting, there is a crispy sugary shell that forms on top with a moist cake and cinnamon struesal center .(See my photos, I've tried to capture the inside and out) Traditional Bundt cakes serve 12 but you can serve 18 with this one just cut the slices a little thinner..... but you might want a huge piece after your house smells like a gigantic snickerdoodle cookie while it's baking!

YUM!! This was delicious! I did leave out about 3/4 cup of sugar, and only used 1/2 c butter and substituted 1/2 c canola oil. I also used greek yogurt instead of sourcream since I didn't have sourcream. I will definitely be making this again! Took to a potluck and it disappeared almost instantly! UPDATE: I made this again this morning with several changes and my family and I think it tastes just as good as the original, only with ALOT less fat. I replaced 2 of the eggs with egg substitute, 1/4 of the butter with canola oil and 1/2 of the butter with unsweetened applesauce, I also used fat free greek yogurt instead of full fat greek yogurt or sour cream. I also reduced the brown sugar by 1/2 and the white sugar by 1/2 cup total. The only other thing I did was replace 1/2 of the flour with whole wheat flour...can't even tell a difference.... The fat % was reduced to 3.5 and calories to 201 per serving....with 18 slices per cake. I absolutely LOVE the flavor of this cake! Thank you so much for sharing! I will be making it alot I'm sure!
Preheat oven to 325°F.
In a small bowl, combine 1 cup of sugar and 2 teaspoons of cinnamon. Mix together really well and set aside.
Generously spray a 9 inch Bundt pan, being careful to cover all the nooks and cranies, as well as the center tube. (Note: If you don't want to use Pam with Flour, you can just grease the pan with shortening.) Gently dust the entire inside of the pan with the sugar and cinnamon mixture. You should only need about 1/4 to 1/2 cup of sugar, but you want to try and evenly coat the inside surface of the pan, including the tube. Save the remaining sugar and cinnamon mixture and set everything aside.
Sift together the flour, baking powder, baking soda and salt. Set aside.
Beat just the butter on medium speed for one full minute. Add the white sugar and mix for 3 minutes, until light and fluffy. Scrape down the bowl and blade and add the brown sugar.
Mix for 2 minutes until the mixture looks light brown and uniform in color. Add the eggs one at a time, beating each for 1 full minute. Stir in the vanilla. Add the flour mixture alternately with the sour cream; beat well.
Spread half of the batter into the prepared pan. Sprinkle with 1/4 to 1/3 of a cup of the cinnamon sugar mixture over top the cake. Spread the rest of the batter into the pan and sprinkle any remaining sugar mixture over the top. (If you run out of cinnamon sugar, you can mix just 1/4 cup of sugar + 1/2 teaspoon of cinnamon together for the top of the cake. It should be more than enough.).
Bake in the preheated oven for 55 to 65 minutes, or until a toothpick inserted into the cake comes out clean. Allow to cool for 10 minutes before inverting onto a wire rack to cool completely.
Share with your family and friends and they will think you are the bomb!