JustJanS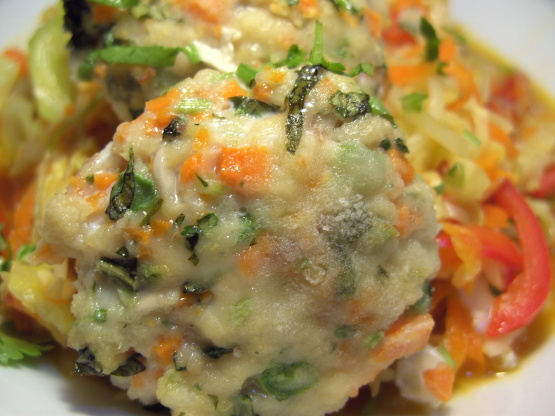 Saw this recipe on a television show being made and just had to try these. They have egg or breadcrumbs, they are all snapper and vegetables. They hold together quite well and a very tasty. The original recipe calls for pan frying but I lightly oiled an oven tray and used in the oven. I think the B.B.Q. would be great! They could also be made smaller and would make great appetizers.

These were amazing thanks Tis. We caught black snapper today for these and I made no changes to your recipe. I sprayed the tray with oil, then layed them out and gave them a spray, then baked them for 1bout 15 minutes. They may not be as coloured as frying would have made them, but they held together perfectly and were super healthy. We ate them with Recipe #425878 as the flavours in it matched the cakes so well (and it was served hot too which we loved on a cooler night)
500

g skinless bonesless red snapper fillets, chopped

100

g green beans, cut into smaller pieces

1

carrot, finely chopped

2

garlic cloves, finely chopped

2

cm piece ginger, finely chopped

1

lemongrass, very finely chopped (the white part only)

29.58

ml sweet chili sauce

1

bunch coriander, finely chopped

1

bunch basil, finely chopped

14.79

ml caster sugar

0.65

ml fish sauce

2

kaffir lime leaves, finely chopped

354.88

ml plain flour, for dusting
oil (if frying)
Put the fish into a food processor and process for 3 minutes, or until you have even chunks. (do not over process as these cakes should have a bit of texture).
Transfer the fish to a bowl and add the chopped beans, lemongrass, sweet chilli sauce, coriander, basil, sugar, fish sauce, and kaffir lime leaves and mix together thoroughly.
Taking 1 tablespoon of mixture at a time,hand roll each tanlespoon into a neat ball. Flatten ball slightly with the palm of your hand and place on a tray. Repeat with the rest of the remaining mixture.
You should have approx 16 balls in total.
Cover with plastic wrap and refrigerate 1- 2 hours.
Remove the cakes and toss the cakes in the flour lightly dusting them.
Place some oil in a fry pan and heat oil to very hot. Fry the cakes in batches, for about three minutes each, or until golden and crispy. Drain on paper towls.
Serve with extra sweet chilli sauce or tartare sauce.