Thorsten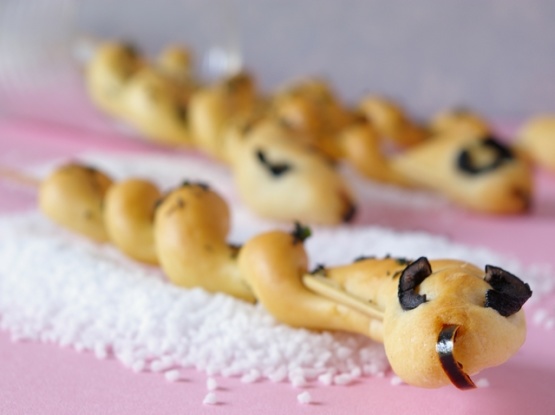 While cleaning out my pantry (ugh, what a chore) I found some wooden bbq skewers that have been replaced by metal ones. What do I do with these? The little wheels in my mind started grinding and I came up with this idea for my Halloween Boo-ffet.

Phenomenal idea!!! I made these from scratch and use some green food coloring. I will admit it was a bit time cosuming shaping them out into the snake forms but man was it worth it. People were speachless at the dinner table! They couldn't believe they were actually edible. Thanks for the ghastly idea!
Preheat the oven to 350 degrees.
Spray each skewer with non-stick spray.
Wrap each breadstick around the skewer and flatten out the end a bit.
You will have to work with the dough a bit, but place 2 black olives on the top for eyes and a small piece of pimiento in the "mouth" for the tongue.
Bake on a prepared baking sheet for approximately 20 minutes or until the breadsticks are golden brown.
Remove from the oven and immediately brush with the melted butter and sprinkle with the herbs/spices of your choice. Let cool.
If desired, slide the skewers off the bread or serve with the skewers in for easy handling.
NOTE: If desired, make the dough from scratch and use food coloring to make them green or knead in paste food coloring, using gloves to shield your hands from getting stained.