Demelza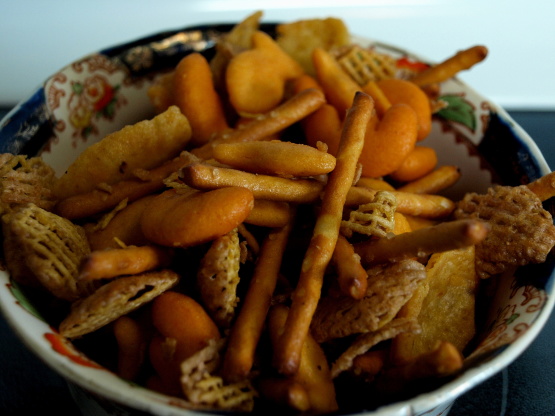 Recived this recipe from a friend at work. It makes a large amount - 46 - 1 cup servings, so she kindly shared with all of us.

WOW!!! I made this mix to take to our neighborhood pub that does a free hotdog set-up for the patrons on the weekend, and everyone is welcome to bring a dish to pass. I brought this. My GF (the pub manager) placed this into many bowls up and down the bar rail, and it was gone in no time! I made this "almost" as written with a couple minor changes (subs). First let me say that we can still get Bugles here in Illnois (one of my favs), but I could not find the Cheez-Its in White Cheddar. So I got the regular Cheez-Its and then 2 - 6.6oz bags of "Flavor Blasted Wild White Cheddar" Gold Fish crackers to sub with (the mix looked so dang cute). And I did not use mixed nuts, just cashew halves (that's what I had in the pantry). I thought that 2 cups of the oil would be over doing it a bit, so I scaled back to 1 1/2 cups. It was fine, but all those snacks really soaked it up... FAST. I used the paper bag method (which also soaked up a bit), so probably the 2 cups is the way to go. Nice flavor to this snack mix. It was enjoyed by many and I have the recipe saved. Thanks for posting. (Made for PAC 2014)
12

ounces pretzel sticks, buttery
12 1⁄4 ounces corn chips, Bugles
13 2⁄3 ounces crackers, Cheez-Its
13 2⁄3 ounces crackers, White Cheddar Cheez-Its

12

ounces crispy rice cereal, Crispex

16

ounces mixed nuts

16

ounces oil, Orville Reddenbacher butter flavored popcorn oil

1

teaspoon garlic salt

1

tablespoon onion powder
Mix first six ingredients in a paper bag or clean trash bag.
Mix popcorn oil, garlic salt and onion powder together.
Pour over first six ingredients.
Mix well and let sit overnight. Stir or shake several times.
Makes a big tupperware bowl full - and is awesome stuff.