Smultringer Norwegian Doughnuts
Yatchzee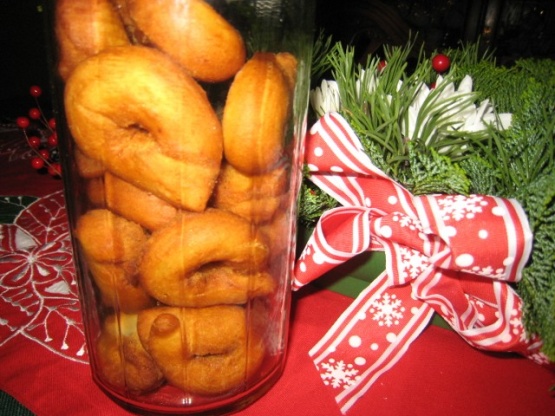 For Zaar 6 tour. They say these are best hot, not cold. Norwegians eat these from a truck in the winter time. The baking powder seems excessive to me, but maybe because of overnight sitting it needs more.

So, I'm sick and in the hospital, but my husband has been cooking for the ZWT9 challenges and for himself and our kids. They really enjoyed this breakfast and he said it was fairly easy to prepare. I will definitely be making this for our family when I get home and recooperated. Thanks Dienia B. Made for team Tasty Testers during ZWT9.
Beat eggs and sugar until light and fluffy.
Whip crream and sour cream together.
Sift flour, baking powder and cardamom together.
Add alternately, with butter and cream mixture, to the egg mixture.
Mix lightly together.
Refrigerate overnight.
Roll out dough.
Cut doughnuts.
Reroll scraps and cut out doughnuts.
Have oil at 350 degrees Fahrenheit.
Deep fry, a few at time, until golden, 3 to 4 minutes.