Smucker's Banana Cookies With Peanut Butter Filling
Parsley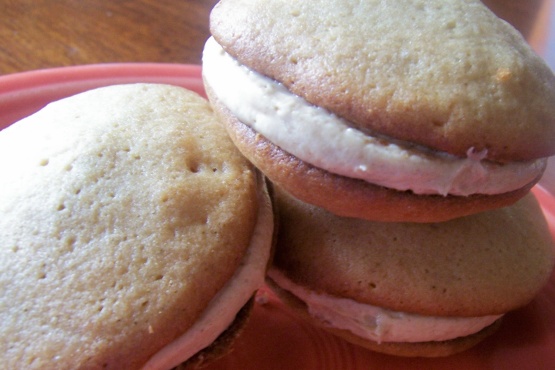 These look really cute and tasty. An Elvis favorite in a cookie sandwich form, perhaps? It comes from the Smucker's website, but you could use any brand peanut butter I'm sure. Prep and Cook times are guesses.

I didn't care for these too much. They tasted pretty good, but my cookie dough did not spread and the finished cookie was more like a thick cake. However, I did like the filling.
Heat oven to 350°F Beat brown sugar, sugar, and butter in large mixer bowl until creamy; add banana, egg, and vanilla. Beat until well mixed.
Combine flour, baking soda, and salt in medium bowl; mix well. Add flour mixture to banana mixture; mix until soft dough forms.
Drop dough by rounded teaspoonfuls onto greased cookie sheets. Bake 11 to 13 minutes or until lightly browned. Cool on wire racks.
Beat peanut butter, butter and powdered sugar until well mixed. Spread about one tablespoon filling on bottoms of half of cookies. Gently press bottoms of remaining cookies against filling to form sandwiches.