Boomette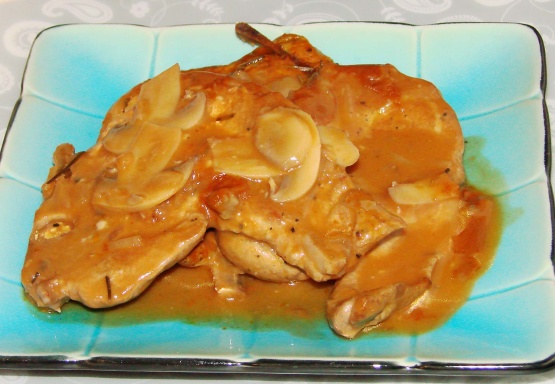 These have a savory sauce that's a nice change of pace. The gravy is tasty enough to eat on its own with just a hunk of good bread.
Salt & pepper chops, and brown in a wide, deep saute pan in 1 T of olive oil over medium-high heat.
Remove to a plate & set aside. Saute the shallots in the pan for 2 min, then deglaze the pan w/ the wine. Keep over med-high heat until half of the wine has evaporated.
Add all remaining sauce ingredients and stir well to combine.
Place the chops in the sauce and cover with the sauce. Bring to the simmer, cover and let simmer over low heat for 1 hour.
YOU CAN ALSO DO THIS RECIPE IN THE CROCK POT IF YOU LIKE - BROWN CHOPS, COMBINE ALL SAUCE INGREDIENTS INCL SHALLOTS & RED WINE - PUT CHOPS & SAUCE IN POT & COOK FOR 8 HOURS ON LOW OR FOR 4 HOURS ON HIGH.
Serve over rice or noodles.