lets.eat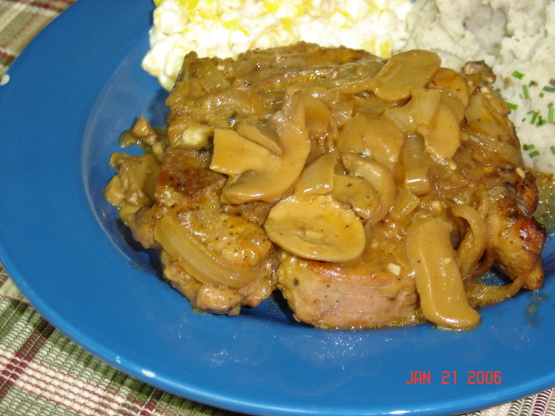 This is pure comfort food. I serve this with mashed potatoes to use all the gravy, and a green vegetable. If you want it thicker, you can add some cornstarch mixed with water to the sauce to thicken.

very good. loved the flavor of the sauce. followed everything exactly and i didn't think at all that the brown sugar made it sweet as other's mentioned. so glad i went w/ my gut and followed the recipe to the T. i'll make this again but next time w/ out the mushrooms. taste preference...but sauce is yummy...great recipe! thanks chia! =)
Preheat oven to 350°F.
Combine sugar, salt, sage and pepper; rub mixture onto both sides of pork chops. Coat chops well with flour.
Heat a large heavy skillet, add oil and butter.
Sauté pork chops until browned on both sides; remove from skillet and set into a baking dish.
Add onion, sauté until just tender adding garlic and mushrooms after first 5 minutes.
Sauté 10 minutes until softened.
Add chicken stock, tomato paste, Worcestershire and heavy cream to pan, bring to simmer. pour over pork chops, Cover and bake 45 minutes- 1 hour, or until very tender.