diner524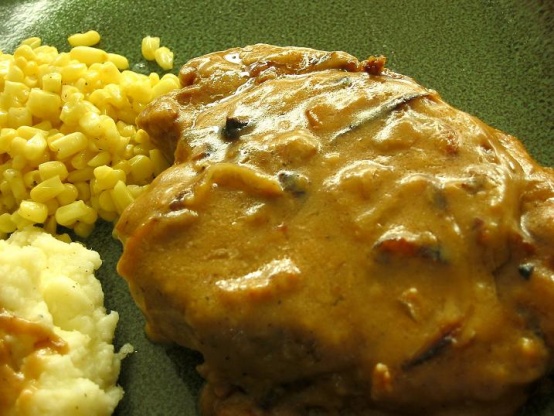 Pork chops smothered in a bacon/onion gravy. Trust me, this is awesome...not a bit bland. It is one of my families favorite dishes!
This is delicious!!! But I didn't follow your amounts, I think you probably cook like me, and guess at the amounts to make your recipe. I used about 1/4 cup flour to add to the bacon grease, and I may be wrong with the amounts for what you do, but one cup of flour, I would not be able to brown it or make a good flavorful gravy. I would actually add about 2-3 tablespoons of the flour mixture and brown, then add less of the milk and water to make a very flavorful gravy. With the ingredients of bacon, onion and pork chops, how could it not be flavorful!!!! Thanks for posting a great recipe that I loved and so did my son and his friend with the changes I made!!!
Fry bacon in a large fry pan on medium heat.
When done, remove and drain on paper towels.
Saute onion in the same skillet with the bacon fat.
Remove to paper towels to drain.
Season pork chops with salt and pepper and dredge in flour.
Fry on medium heat in the same skillet with bacon fat until light brown; remove to warm plate.
Put remaining flour into skillet (add oil if necessary).
Brown flour lightly.
Add hot water immediately, then milk.
Stir vigorously.
Season as desired with more salt and pepper and add more water if needed to achieve gravy consistency.
Put pork chops, bacon and onion into gravy and reduce heat to simmer.
Cover pan and simmer for 20 minutes.