Smothered Hamburger Steak
Annacia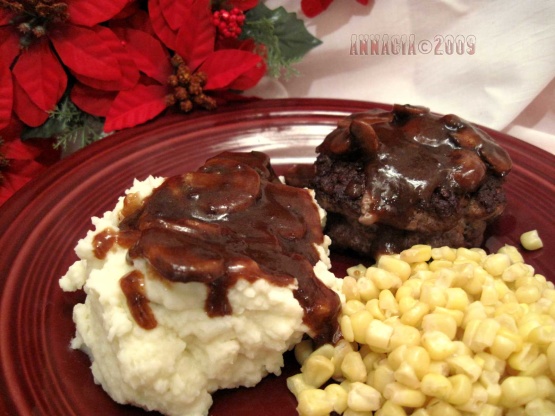 I came up with this version out of neccesity, because I didn't have all of the ingredients for the other recipes I came across.

I made this tonight for DH and he was very happy to get "Man Food" while I had a veggie meal. He had no problem cleaning his plate and gave the recipe 4 stars. This is simple to prepare and it certainly is hearty. BTW, I should mention that DH likes his meats *very* well done and he said that it wasn't dry inside.
Combine egg, ground beef and soup mix. Shape into 4 patties. Brown patties, add white parts of onions to saute with patties.
When the onions are softened, add the gravy and green onion tops. Cover and simmer for 15 minutes.
Serve with Garlic Mashed Potatoes with Spinach and Sweet Peas.