Smothered Ground Sirloin Steak with Adobo Gravy
Derf2440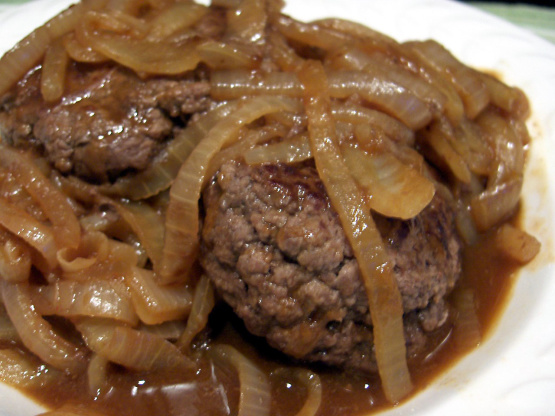 This is a great Cooking Light recipe. I serve it with lemon pilaf.

This was so easy and really tasty. I used only 1/2 can of the chipotle. It was good, but it would have been better if I had used it all, as written. Next time I won't chicken out! Thanks for posting.
Divide sirloin into 4 equal portions, shaping each into a 1/2 inch thick patty.
Drain chipotles through a sieve over a bowl to catch sauce.
Reserve 1/4 cup sauce.
Save the chipotle peppers for another use.
Heat a large nonstick skillet coated with cooking spray over medium high heat.
Add patties and onion; cook 5 minutes on each side.
Add adobo sauce and consomme; bring to a boil.
Cover, reduce heat, and simmer 10 minutes.
Combine soy sauce and cornstarch, stir well.
Add to pan; bring to boil.
Cook 1 minute or until thick.