Smothered Cube Steak With Mushrooms-N-Gravy
VickyJ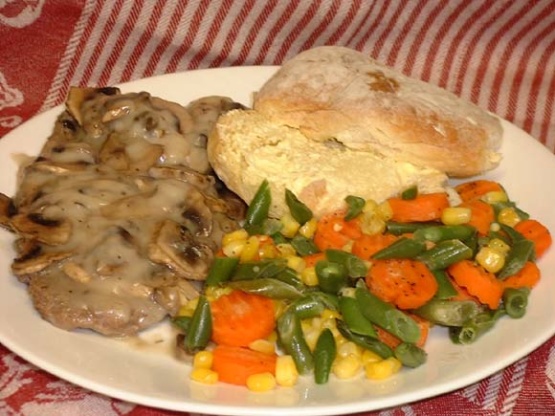 Great easy meal to put together when you're not quite sure what else to make. I have had many times I stood there scratching my head as to what to make. This recipe is for one serving, but it's easy to adjust the amount or substitute to your liking....instructions for gravy are included in the directions.

Very simple and low fat way to prepare cube steaks. I dusted mine with a little corn meal and flour to assist in crusting of the meat. I then added less flour to the skillet to make the gravy. I was almost out of white wine but substituted chicken broth for the balance to make the mushroom gravy. Please note that the ingredient list is INCOMPLETE. If you are going to prepare, please see Directions number 4 for the balance of the ingredients. If you like mushrooms, go heavier on the mushrooms as 5 will not be near enough. I used about 12 large mushrooms. Remember, they are 90% water so they shrink up a bunch. Adjust recipe to suit your tastes. Enjoy! Jim in So Calif
Make marinade and put with cube steaks in a zip bag. Marinate in the ice box (refrigerator) for an hour, but it is much better longer.
Remove the cube steaks from the marinade, and sprinkle garlic powder and Italian seasoning on both top and bottom.
Brown cube steaks on each side, set aside.
To the drippings, add 1 tbsp of flour, 2 pats of butter and a splash of white wine to deglaze the pan. Stir constantly, adding mushrooms and cube steaks. Simmer for 10-15 minutes over medium heat.
Serve with vegetables and warm bread or rolls.