Smothered Cornish Game Hens
Catnip46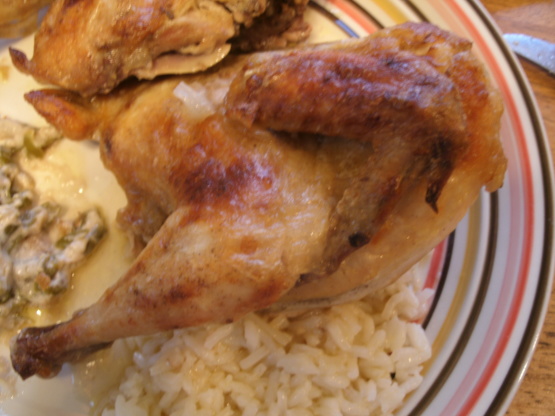 This is a change for cornish hen recipes. It is quite tasty.

This is a great recipe! The sauce was delicious and could probably be used for many different meats. My only issue was the massive amount of butter involved; the end result was a bit oily (from the butter and the birds). I may experiment with using less butter.
Brown hens in the butter in a large skillet over a medium-high heat.
Then place with breast up in a 13x9 baking dish.
Add flour into the skillet stirring until smooth.
Cook 2 minutes; stirring constantly over medium heat.
Slowly stir in the broth and sherry; cook over medium heat, constantly stirring, until mixture is thickened and bubbly.
Stir in salt and pepper.
Pour sauce over hens and bake at 350 degrees for 1 hour covered.